Orthopedic mattresses have become popular in India and around the globe as more and more people experience back pain and other orthopedic issues. The changes in lifestyle, long working hours, sedentary habits, etc., have led to an increase in body pains, joint pains, back pain, and other similar conditions. Many people in India are opting for orthopedic mattresses to find comfort and relief from back problems.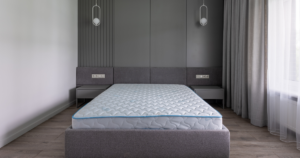 However, there are many types of orthopedic mattresses in the market. Various brands offer different models made using varied materials. Each orthopedic mattress can be different and cater to different requirements. In this blog, we'll find out how to choose the right orthopedic mattress for back pain. 
Factors to Consider When Choosing an Orthopedic Mattress 
Even though orthopedic mattresses are recommended for people with body pains, they can be used by anyone. Here are a few ways to find the right mattress for you: 
Orthopedic mattresses have the perfect blend of softness and firmness to provide a good night's sleep. Choose a mattress that supports your spinal cord without hurting your arms when you turn to the sides. For example, a soft or medium mattress is suitable if you toss a lot when asleep. 
A medium to firm orthopedic mattress is the best if you sleep on your back. Finally, the high-firm mattress is for people who sleep on their stomachs or weigh over 90 kg. It ensures that the mattress doesn't sag or sink due to your weight. 
Orthopedic mattresses are expensive and heavy as they have more layers inside. Turning or flipping such a mattress takes work. Furthermore, it is not recommended if you already suffer from back pain. In such instances, you need a mattress flexible enough to carry your weight without sagging. Lumbar relief is vital as there will be excess pressure on the lower back (where your spine meets the pelvic bone) when you sleep flat, facing upward. 
Fortunately, orthopedic mattresses made by Snoozer are highly durable and retain their original shape for years. That said, you still have to replace the mattress once every ten years, depending on the wear and tear. 
The primary reason to invest in an orthopedic mattress is to support your back when sleeping. The right mattress will align with your body's shape when lying on the back. There shouldn't be any space between your body and the mattress's top as you lie flat on it with your legs and arms straight. At the same time, you shouldn't feel any extra pressure under your spine or lower back. Nothing should push into the curves in your back, shoulders, neck, and joints. 
In short, an orthopedic mattress will have an ergonomic design that allows you to gently rest on the surface and feel your muscles relax. You should be comfortable whether you sleep on the side, back, or face down. 
The materials used to make the orthopedic mattress are also important. These determine how well the mattress will support your body and provide relief from pain. You also need to know if you are allergic to any of these materials. Furthermore, the design should be such that a person of any age can fall asleep on it easily. 
For example, Snoozer Orthopedic mattresses are firm enough to provide back support but also have a 100% quilted cotton top layer. It has a thousand adaptive coil springs inside that adjust according to your body contour. The mattresses have unicased firm edges and a minimalistic design.  
When buying an orthopedic mattress for back pain, also consider its size and thickness. Always opt for a mattress a few inches longer than your height. You can even opt for custom dimensions and get a mattress created for your requirements. 
Additionally, the mattress has to be around 8 or 10 inches in thickness so that it can cushion your body without feeling too hard or extra firm. A thick orthopedic mattress will be firm to rest but soft to the touch. It will cushion the pressure points and aid blood circulation. 
Finally, you should consider your budget, as orthopedic mattresses are expensive. Opt for a brand like Snoozer that offers greater returns and higher durability. In fact, you will spend only @Rs 30/- per night if you invest in the Snoozer orthopedic mattress. Doesn't that seem like a great investment in exchange for pleasant sleep every night for a decade? Moreover, the mattress can be used by people of different age groups and is also suitable for insomniacs. 
Why Snoozer Orthopedic Mattress is the Right Choice 
Snoozer is the best orthopedic mattress brand in India, with years of experience providing customers with handcrafted mattresses. We have specially designed the orthopedic mattress to flex and align with your body contour.
The lumbar region is the lower back, where the spinal cord meets the pelvic bone. Conventional orthopedic mattresses are hard and make the spinal cord to curve at an unnatural angle. This creates pressure points in the lumbar region and restricts proper blood circulation. Your muscles spend the entire night trying to ease these pains, resulting in back pain when you wake up. 
However, our Orthopedic Mattress doesn't sag or strain your pressure points. It works to ease the muscles and soothe the spinal cord and lower back. The firmness is balanced by a soft cotton top layer that cushions your head, neck, shoulders, and knees as you lie on the side. And the biggest advantage of our mattress is that there is no need to flip it throughout the usage period. 
Snoozer orthopedic mattresses have a minimalistic design that creates gentle ridges on the top surface but doesn't leave marks on your skin even if you sleep on a bare mattress without a bed sheet. Our orthopedic mattresses are easily available in several cities in India. We also offer country-wide online services.  Try our Premium Mattress at your home for 365 days. We guarantee you will love it. If not, you can return the mattress anytime during the trial period and get a full refund. 
Conclusion 
Choosing an orthopedic mattress is easy if you follow the above factors. A good orthopedic mattress is worth the investment and offers many benefits. It supports your spine, promotes good sleeping postures, and aids in having a good night's sleep to prevent insomnia. Take your time to compare different orthopedic mattresses and choose the right one.